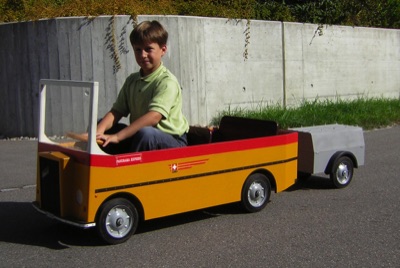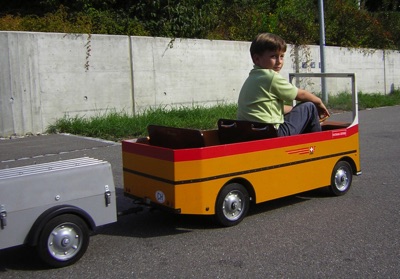 Model of a Swiss Post Bus for children
The pictured vehicle of a Swiss Post Bus is a freely interpreted replication of the "Saurer 2CM" model, a former truck of the Swiss Army. However, a Swiss Post Car was never built on the platform of a "Saurer 2CM".
The model is made in ply wood and is equipped with a 12 volt electrical engine, usually used for wheelchairs. The open and integral body construction allows the model to transport a child and an adult person without any problems. All chairs are individually adjustable and also made out of wood. The axes are spring mounted and the brakes work on both dual wheels of the rear axle. With a full battery charge, the vehicle is able to achieve a maximum speed of about 4 - 6 miles per hour and a distance of approx. 7 to 9 miles under normal conditions.
The colour and the logo of the model correspond to the design of the Swiss Post Bus of the fifties. The battery is stored in the trailer and indirectly controlled over an electrical two-step relay. The typical three tone clamp of the Swiss Post Buses is electronically simulated over an internal loudspeaker.
Our children have grown and have now other interests. The model has become a new owner and makes now part of the vehicle fleet of the Swiss Travel Post in Bern.